Recently we launched a new analysis for our Impacter customers in the Netherlands! For now only available for the pre-proposal of the 'Veni-talentscheme' call, but in the future also available for other calltopics that have a narrative CV.
The Dutch funder NWO is moving towards the use of a 'narrative CV' instead of an old fashioned CV with long lists of publications in their funding schemes. These narrative CV's have common pitfalls one should circumnavigate, just like there are common pitfalls in the impact chapter one should avoid. With support and feedback from our customers, we identified common pitfalls for the narrative CV and included a 'narrative CV check' in Impacter which is now available for all our Dutch customers with academics that are applying for the Veni preproposal in September 2022!
.- - - Text continues below image - - -.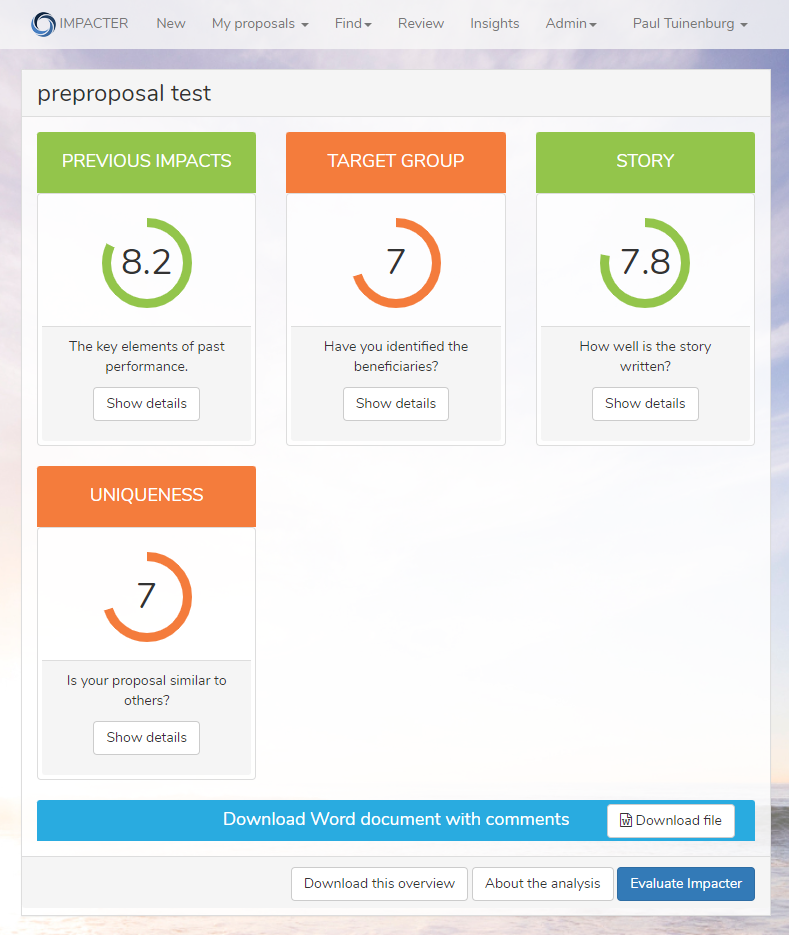 It has already been used by dozens of young researchers who are applying for the Veni talentscheme and their first experiences are very promising:
"The feedback was much more extensive and useful than I expected from an automated tool"
"Thanks! There are a lot of useful comments in this tool which I will use to improve"
So if you are applying for a Veni preproposal, make sure to check out Impacter!
We are in touch with other customers of Impacter about the narrative CV in general and the tendency of other funders to include this in their grant applications. So if you have experience with narrative CV's, or are aware of calltopics where this is a requirement, feel free to reach out to us! We are happy to include this analysis in other funding instruments as well to thereby empower more researchers in writing a strong narrative CV!
Generally speaking, if you are working in a Research Support Office and have ideas on things that could help you in the grant writing phase, feel free to reach out! The reason we have a narrative CV check, is because someone in the research office of Radboud Medical Center Nijmegen saw an opportunity to save herself some time by outsourcing some of her 'standard comments' towards Impacter. Creating time for herself to focus on more specific elements in the preproposal which results in more support for the researchers. So, do not hesitate and tell us all about your ideas to make working in a Research Support Office easier and more fun! We are happy to discuss ways of including these in Impacter!